2023 NISSAN ARIYA VS. TESLA MODEL Y: WHICH EV WILL YOU CHOOSE?
The all-new 2023 Nissan Ariya enters the electric SUV market with an abstract design, an advanced powertrain, and high-tech systems while being one of the most affordable EV SUVs out there. (And the Ariya will be the first Nissan vehicle to sport the new Nissan logo!) While the Tesla Model Y is a popular EV choice, the new Ariya gives the Model Y a run for its money. In the ultimate electric SUV head to head you will see why the 2023 Ariya is the best buy for your money.
NISSAN ARIYA DESIGN VS. TESLA
The 2023 Nissan Ariya arrives with a bold statement and futuristic design. At first glance you won't be sure where to look. A sloping roof with a split roof spoiler provides an aerodynamic design that allows for more efficient travel. Unique patterns make up the Ariya. Blade-like 20-inch wheels and a v-shaped grille with angled LED lights create the futuristic design Nissan was aiming for. The 2023 Ariya will also be the first Nissan to feature the new simple illuminated logo that will be located on the grille.
In comparison, the Tesla Model Y doesn't offer any noticeable design upgrades and features a simpler design. We can't really say much except that it has a rounded roof and slightly angled headlights. If you have seen the previous model, then you have a good idea of what the newest model looks like.
NISSAN ARIYA PERFORMANCE VS. TESLA
A big factor in purchasing an EV is the vehicle's driving range and charging capabilities. The 2023 Nissan Ariya does not disappoint. With the 90-kwh battery and front-wheel-drive, the Ariya has a 300-mile driving range and can produce 214 horsepower and 221 lb-ft of torque. For an increase in power and speed, experience the new Nissan e-4ORCE AWD that is capable of 388 horsepower and 443 lb-ft of torque. Another thing to note is that the Ariya features incredibly fast charging capabilities with its ability to take on 130 kw of power using a Level 3 DC or 7.2 kw with a Level 2 240-volt.
The Tesla Model Y does feature slightly higher performance numbers depending on which configuration you choose, but it will cost you quite a bit more for that small power upgrade. With the Long Range Dual Motor, the Model Y has a driving range of 316 miles and produces 384 horsepower and 375 lb-ft of torque. The Performance model has a 291-mile range and has the capability to produce 450 horsepower and 471 lb-ft of torque.
Both models come standard with all-wheel-drive.
NISSAN ARIYA COMFORT VS. TESLA
When electric cars were first concepted, the interior space was greatly affected and reduced to accomodate the need for a battery. EVs have come a very long way and the 2023 Nissan Ariya just raised the bar even higher. Nissan knows how important passenger and cargo space is. That is why with the new Ariya they placed the battery low in the frame of the new chassis. This provides a seating capacity for five passengers. When it comes to storage space, the new Ariya provides 16.5 cu ft of storage behind the second row seats.
The Tesla Model Y Electric does boast an impressive amount of cargo storage at an overall 68 cu ft of storage. The numbers are unclear on whether that includes the front trunk space as well. Features on the Ariya, such as a sliding center console, provide more space and comfort for passengers that make it stand out a little more when it comes to seating comfort.
NISSAN ARIYA TECHNOLOGY VS. TESLA
The 2023 Nissan Ariya really stands out with its impressive array of innovative technology. The dual 12.3-inch screens feature a brand-new digital instrument panel and infotainment system where you can take advantage of automated driving functions, wireless Apple CarPlay and Android Auto, and an onboard voice assistant. A major addition will be ProPilot Assist 2.0 which is an upgraded version of Nissan's suite of driver assist features.
The Tesla Y Model doesn't feature any new upgrades for its newest model and basically copies the same interior as the previous design. Both electric SUVs will take advantage of over-the-air software updates.
NISSAN ARIYA PRICE VS. TESLA PRICE
While both of these electric SUVs have some pretty impressive features, you can't beat the price of the 2023 Nissan Ariya and all you get with the lower price range. Starting at $40,000 the Ariya is priced well below the starting price of the Tesla Model Y at $49,990. So, we will let you decide on whether that kind of extra dough is worth the slightly different features. The design of the Ariya alone has us saying no thank you to the Model Y.
Stay tuned for official release dates and more information on the all-new 2023 Nissan Ariya. In the meantime, come see us at Patterson Nissan and test drive your next vehicle today.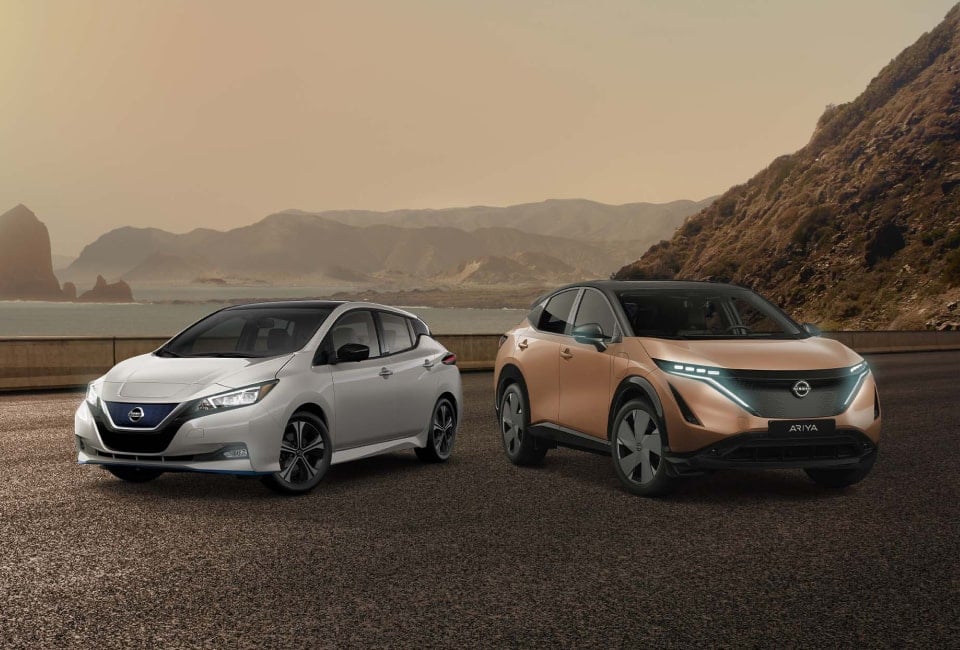 During Nissan's 80+ years in business, the maker has emblazoned their cars…
Read More